Creativity in Action for resilience
Mara Linnemann Started 10 years ago with giving workshops in creative writing, now she facilitates up to 10 day trainings in 'sustainable activism'. She likes to support the power of the people, to be life long engaged for a just transition. She designs courses for diverse groups and makes use of empowering tools. She mainly works on emotional response towards climate change. She can facilitate in German, Dutch and English. She is trainer for the 'Transition Network' and 'Stroomversnellers' the Dutch Trainers collective for social change. She followed trainings from, Joanna Macy, Starhawk, John Croft and did the Eco Village Design course.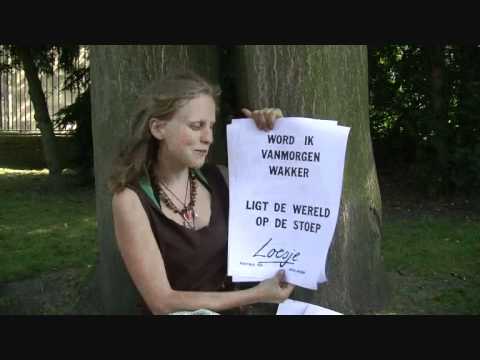 A short movie about how to realize your dreams in just 5 steps!
You in the city
When I am walking along the streets
and the city rush reflects my own stress
I start looking around for something
that does not move, travel or speed up.
And then I see you
and the more I watch, the more I see.
you also move but ever so slowly
my eyes can hardly see
You would call it growing
and I see you flourishing.
In wintertime, when I walk around,
my hat pulled down over my ears,
you are bare, looking almost dead
But in spring when my shawl slips off my nose
I smell you and see colors that tempt me
more than the flashing signs of the city
It's you, you the trees
standing tall, firmly rooted
It's you, you the trees
that give me peace
And I blush for not even knowing your names.
What I see in the streets I can name it all:
car, pavement, road sign and traffic lights.
But of you there seems to be no description
and neither are you marked on any map.
Nevertheless you are the only one,
who truly show me the way.

Anymore
I hear your words
But they don't call me, anymore
I know your law
But I don't obey it, anymore
I found myself
And I won't loose it, anymore
I got my way
And its not the one you have, anymore
I know, its not only me, anymore
So I will join you, join me, join more
I promise not to harm, anymore
Not to destroy the world, anymore
I will fight for this, I will sing for it.
so you can not do it, anymore
go on and destroy the world.
Not anymore